Home

Purchase Products
It's simple.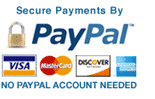 Select the item you wish to purchase by clicking one of the
'Buy It'
button below. You can add more items
'Continue Shopping'
,
'Update'
or
'Checkout'
& pay.

*20% VAT will be calculated on orders within EU.
Please allow up to 28 days for the delivery of goods.